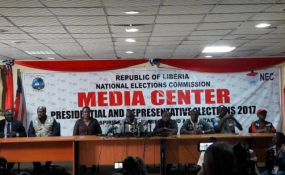 Photo: Liberian Observer
By E. J. Nathaniel Daygbor
The grounds of the National Elections Commission became very tense, when an officer of the Emergency Response Unit of the Liberia National Police landed few punches in the face of the Deputy Secretary General for press and public affairs of the opposition Liberty Party, Mr. Edward Kla Tomey.
The assault came as a result of intense scuffle between onlookers and sympathizers, who had gone to witness the ruling of the investigation of fraud and irregularities case between the opposition Liberty Party and the ruling Unity Party as complainant and co-complainant on one hand, and the National Elections Commission.
Mr. Tomey was taken from the scene by people believed to be LP partisans to a nearby clinic for medication.
It all started when NEC Hearing officer, Cllr. Muanna Villie, on the evening of November 20, called for a one hour break, following arguments from the parties and the National Elections Commission to allow him prepare his file for the ruling.
After the break, people who attended the argument tried to make their way back into the James Fromoyan Conference Hall for the ruling, but two police officers from the Police Emergency Response Unit or ERU barricaded the entrance, stopping people from entering on the basis that the hall is jammed packed.
While in the process of preventing people from entry, including local journalists, observers and some stakeholders, the chairman of the ruling Unity Party Wilmot Paye and his entourage appeared at the entrance, and were immediately recognized by the officers, who without delay opened corridor for the chairman and six additional persons to enter the hall.
Tension flared as the Executive Director of NEC, Mr. Lamine Lighe, Training Director, Mr. Senensee Freeman, and Press Director Henry Boyd Flomo along with high profile officials of the commission attempted entering but due to the crowd, they could not go through.
Lighe, who appeared very angry called more men from the ERU to clear the entrance, within few minutes, a pickup full of well armed ERU officers appeared and chased the crowd away, denying people of entry.
Meanwhile, the NEC Hearing Officer has ruled that the pieces of evidence and witnesses produced by both the Liberty Party and the Unity Party are not sufficient to seek a rerun of the October 10 Presidential election.
However, the two parties have taken an appeal to the board of commissioners of the National Elections Commission for redress.
The parties are challenging the results of the 10 October poll, citing widespread fraud and irregularities. The LP in particular is calling for a re-run of the entire poll. Its leader, Cllr. Charles Brumskine came 3rd in the poll with 9.8 percent of the total votes cast, while the UP with over 28 percent, had been scheduled for a runoff with former soccer star turned politician George Weah, but the Supreme Court placed a prohibition to the runoff, pending full invetigation.