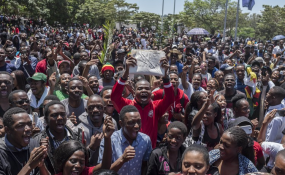 Photo: GroundUp
While Zimbabweans take to the street to celebrate the end of Robert Mugabe's 37-year rule and usher in a new era, questions still remain about how a new leader will be chosen and what will happen to Mugabe.
Zimbabwean political analyst Ernest Mudzengi, who spoke to News24 on Tuesday following the announcement of Mugabe's resignation, says current procedure dictates that the sitting vice president would be chosen as leader. However, that is unlikely.
He said, while the presidency should move to the Vice President Phelekezela Mphoko, other factors were in play for the country.
"In our country we have provisions for two vice presidents. In terms of procedure, he [Mphoko] would be next in line. But this would be a problem for the people who have been behind the so-called coup. They are not comfortable with him taking over. They view him to be a Mugabe sympathiser."
He said axed vice president Emmerson Mnangagwa would most likely be Mugabe's successor.
"He was fired just recently and he is someone who is seen as a positive figure for the people of Zimbabwe. I see him taking up the reigns. He is favoured."
Zanu-PF chief whip Lovemore Matuke told the Associated Press earlier that Mnangagwa would take over as the country's leader within 48 hours after Mugabe's resignation.
Matuke said Mnangagwa, who fled the country after he was fired, "is not far from here" and added that they look forward to Mugabe doing the handover of power "so that Mnangagwa moves with speed to work for the country".
The future of Mugabe
According to Mudzengi, Mugabe was not expected to stay in Zimbabwe.
"He has been offered exile in SA by [South African] President Jacob Zuma. But he also has other options such as Singapore and China. He will not stay here. While he believes his actions were for the people, millions are now celebrating him leaving his position of power."
He said Mugabe would still feel strongly for the country: "He truly felt what he was doing was correct and, if he saw celebrations, it would surely decline his already ailing health. He will go."
We want an economy that works
According to Mudzengi, Zimbabwe, which effectively suffered decades of oppression, will be looking for one thing - an improved economy.
"The people will be looking to leadership to ensure that the economy begins functioning at a proper pace again. The people have really suffered."
The people have spoken
Mnangagwa said in a statement on Tuesday morning that he was in touch with Mugabe, who had invited him for a discussion. "I told the president that I would not return home now until I am satisfied of my personal security, because of the manner and treatment given to me upon being fired," Mnangagwa said.
On Monday, Mnangagwa's wife Auxillia, told News24 that she could not confirm if he was in the country, nor express any indication of his whereabouts, because of safety concerns.
Mnangagwa said he told Mugabe "the current political and constitutional crisis" wasn't a matter between the two of them, but one between Mugabe and the people of Zimbabwe.
"The people of Zimbabwe have clearly spoken on this matter," he said.
"To me, the voice of the people is the voice of God and their lack of trust and confidence in the leadership of President Mugabe has been expressed," Mnangagwa said.
He said the people of Zimbabwe had spoken with one voice and he pleaded with Mugabe to take" heed of the clarion call by the people of Zimbabwe to resign".
"I look forward to returning home soon and to join in the struggle for the economic revival of our country," he said.
Source: News24