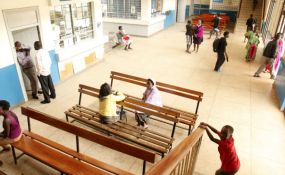 Photo: Rachel Mabala/Daily Monitor
By Lilian Namagembe
Kampala — Government would have to part with a minimum of Shs647 billion every year if it's to meet the striking doctors' demands to end their industrial action that has paralysed health services in government hospitals.
With 48 senior consultant doctors seeking to earn Shs45 million each in the proposed salary adjustment, Shs40 million for each of 104 consultant doctors, Shs15 million each for 742 medical officers, Shs17 million for each of 589 senior house officers and each of 1045 intern doctors to earn Shs8.5m, the doctors' annual aggregate salary budget would amount to Shs391.218 billion.
Another combined amount of Shs143 billion would be required to provide the same number of doctors with 4.0cc vehicles for each senior consultant and 2.0cc for each consultant and medical officer.
According to Toyota Uganda, one of the suppliers of new cars in the country, a 4.0cc vehicle goes for $104,000(about Shs374 million) while a 2.0cc vehicle costs $41,000(about Shs147.6 million).
The amount, added to the Shs88.9 billion required to meet the doctors' proposed enhanced allowances including overtime, housing, transport, medical risk, and retention, which vary with seniority, would bring the overall total to Shs647.118 billion. Their proposed emoluments structure was presented to President Yoweri Museseni last month.
Under their umbrella body, Uganda Medical Association (UMA), the doctors last month voted to lay down their tools in all government hospitals effective November 6. They said the strike would last until government responded to their demands which they say have been pending for long.
This brings the overall total worth of the doctors' demands to Shs647 billion without new quarters that they want government to construct for them and also pay their domestic workers.
The doctors say the ban on recruitment of medical personnel has bred stagnation in career progression with no promotions.
Dr Ekwaro Obuku, the UMA president, said the money is not a lot since health care delivery is an essential service and government is mandated to cater for its priorities.
However he added that their demands are negotiable.
"That is the figure for our calculations and we are waiting for the government to tell us what they are willing to offer but we have not heard from them," Dr Obuku said.
Currently, a senior consultant doctor earns about Shs3.4 million, a consultant Shs2.6 million and medical officer Shs1.1 million.
Intern doctors earn Shs960, 000 while Senior House Officers or post-graduate medical students who carry out specialised health services in designated government health facilities as part of their curriculum are not paid by government.
During a meeting between the select multi-sectoral committee and the striking doctors on Wednesday, State Minister for Finance David Bahati said the wage bill would shoot to Shs8 trillion from Shs4 trillion currently if they were to increase salaries of all public servants.
The 2016/2017 Annual Health Sector Performance Report indicates that the health sector staffing improved slightly to 73per cent from 71 per cent in 2015/16 above the Health Sector Development Plan target of 70 per cent.
The number of health workers per 1,000 people in Uganda is also still far below the WHO threshold of 2.3 doctors, nurses and midwives per 1,000 population.
Currently, the ratio of doctors, nurses and midwives to population is 1: 28,202; 1: 2,121 and 1: 6,838 respectively.