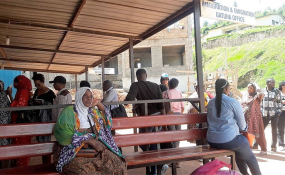 Photo: The Observer
By Our Reporter
Rwanda National Police Force has denied allegations that a Ugandan businessman Justus Tweyogyere alias Mwana Muto, a prominent money changer at Katuna border post was kidnapped from Rwandan soil.
William Asiimwe, the chairperson of Katuna money changers association had indicated that Tweyongyere was kidnapped on Monday at around 2pm while at the Rwandan side of the border, Gatuna.
Nelson Nshangabasheija, the mayor of Katuna town council earlier said that Tweyogyere was kidnapped soon after depositing 40,000,000 Rwandan Franc (about Shs 170 million) in Bank of Kigali, Gatuna branch in Northern Province, Gicumbi district.
Nshangabasheija said that he received a phone call from Tweyongere while screaming for help but the phone was switched off within a few minutes.
However in a tweet in reference to our earlier story, Rwanda Police said Tweyogyere was neither kidnapped nor arrested as alleged.
"Reference to an article published in the @observerug, Mr Justus Tweyogyere was neither kidnapped nor arrested. He was questioned after crossing to Rwanda in possession of a sum of money exceeding the ceiling of US $10,000 without declaring it to customs.", Rwanda police tweeted.
Adding: "He was later cleared and returned to Kabale after providing proof of his transactions and partnership with Kigali forex bureaus. Justus was advised to always comply with central bank regulations."