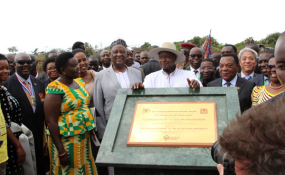 Photo: Daily Monitor
By Zephania Ubwani
Arusha — The East African Community (EAC) would need a hefty $ 55 billion to implement a number of proposed flagship infrastructure projects in the coming years.
The projects are seen as key in connecting the six partner states and hence boost intra-EAC trade and economic integration.
They were approved last week during the fourth extra-ordinary sectoral council of Transport, Communication and Metereology (TCM) during its session held here.
The transport links would also connect the bloc with the neighbouring states.
"The projects would have high impact on socio-economic growth and required an investment amounting to more than $ 55bn", said Steven Mlote, the deputy secretary general in charge of Planning and Infrastructure.
On the source of funds for implementation, Eng Mlote noted the bloc would approach the development partners and the private sector "in order to realize the huge financial investments required".
On the Tanzanian side, projects already approved include construction of the proposed 144 kilometre Dar es Salaam-Chalinze expressway and a mega hydropower project at Stiegler's Gorge along Rufiji river.
Also approved is the development of Zanzibar ports.
However, some of the projects such as the 1,442 kilometre Hoima (Uganda) to Tanga port crude oil pipeline and an oil refinery in Uganda are implemented bilaterally by the two countries with financing from the multilateral agencies.
Those whose civil works are already underway include the construction of the standard gauge railway (SGR) from Dar es Salaam and which will later connect to Burundi and Rwanda.
While the long-awaited Dar -Chalinze expressway is now on the radar of implementation within the framework of EAC, a similar expressway is planned for Mombasa-Nairobi-Jinja for the northern corridor.
The first SGR in the region between Mombasa and Nairobi has been completed and is now being extended to Malaba on the border with Uganda with a spur to South Sudan and Rwanda.
The projects which were reviewed by experts during the meeting include construction of a new single point mooring, one stop centre, expanded gates and improved access roads at the port of Dar es Salaam.
Also earmarked for implementation on the Tanzania side are upgrading of the Ndumbi port on Lake Nyasa,construction of the road from Simiyu region and to Sirari on the Tanzania/Kenya border.
According to Eng Mlote, the EAC Heads of State had way back in 2014 gave a priority status to the projects, paving way for implementation pending availability of the funds.
The Uganda minister of State for Works and Transport Aggrey Bagiire underscored the need to enhance capacities of the existing transport networks in the region "to cope with the future demands and to meet international standards and requirements".