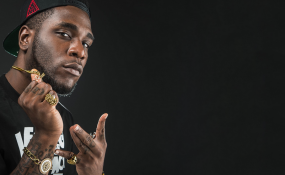 Photo: Burna Boy
By Eugene Agha
Lagos — Detectives from the Lagos State Command, on Tuesday quizzed the father of popular musician, Burna Boy, one Samuel Ogulu, over alleged refusal of his son to honour police invitation.
It was gathered that Samuel Ogulu, Burna Boy's father was drill for over two hours by the Investigating Police Officer (IPO) and that at the end he was directed to produce his son who is currently on the run.
Damini Ogulu alias Burna Boy is presently on the police wanted list for his alleged involvement in the attack on David Abiye alias 2Kay.
2Kay was attacked by four armed men inside in his room, at Eko Hotels, Victoria Island on October 22, 2017.
2Kay was a guest artist at a big show at Eko Hotel organizes by Buchwyld network limited which featured many other artists. During the attack the suspect made away with 2Kay's property worth over N13 million.
Detectives have since arrested three persons who were allegedly contracted to rob 2Kay in his hotel room. Those arrested are, Balogun Ademola, 23, Obinna Igwe, 20 and Omotore Tunmise, 27.
Lagos State Commissioner of Police, Edgal Imohimi, at a press conference held at the Command Headquarters, Ikeja, on Monday said that the three suspects alleged that they were contracted by Burna Boy to teach 2Kay a lesson.
But in a swift reaction Spaceship Entertainment, Managers of Burna Boy alleged that the popular musician was never declared wanted by the police.
An official statement by Spaceship Entertainment, on social media regarding the news, alleged that Burna Boy was never declared wanted by the Nigerian Police because he has already honored the invitation served on him on Monday, November 20th, 2017.
Angered by the statement which the police said was misleading, Edgal Imohimi said that the Lagos state Police Command would like to inform members of the public that Damini Ogulu a.k.a 'Burna Boy' is yet to report himself to the police and was still on the run contrary to reports making rounds on the internet that the musician has honoured police invitation.
He said: "The command would also like to inform the public that only Burna Boy's father, one Samuel Ogulu visited the Investigating Police Officer (IPO) in-charge of the case with the promise to bring Burna Boy before the police.
"The Command however uses this medium to urge Burna Boy's father and relatives to do right by bringing the musician and turning him in to the police before the long arm of the law catches up with him. The command assures that justice will be done."