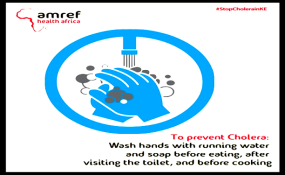 Photo: AMREF
By Winnie Atieno
A mother and her baby died of cholera after the disease spread to slums in Mombasa County.
The county department of Health has also established cholera treatment centres to curb the spread of the highly infectious disease.
MEASURES
The health facilities will operate as treatment centres after the disease spread to slums near dumpsites.
The county has been grappling with how to contain cholera that broke out two weeks ago.
"We have put up all the necessary measures to contain the situation. We have had about 25 admissions, but majority are diarrhoea cases. We are isolating them at Mwembe Tayari Health Centre," said Health executive Hazel Koitaba.
She urged residents suffering from severe diarrhoea to seek treatment in public hospitals.
"If they don't get water they can die of dehydration. The disease was caused by the rains and stagnant water. We are spraying all the wells to reduce infections," she added.
CHOLERA
According to the county Chief Health Officer Khadija Shikely, the centres will play a key role in fighting cholera and treating any cases that need swift intervention, especially in villages and slums.
"In a bid to counter the rising cholera cases we have established the treatment centres. We have 50 diarrhoea cases in Mombasa, 15 due to cholera. Cholera cases have been reported in Changamwe, Kalahari Jomvu, Kibarani, Moroto, Makande and Mshomoroni are areas," said Dr Shikely.
She urged residents to help eradicate the disease by clearing garbage and maintaining high standards of hygiene.
"We are raising awareness and cleaning the environment. Don't wait for the county to clear garbage. We are working with all departments to deal with the cases," she added.
CENTRES
Dr Shikely said the treatment centres will also come in hand in decongesting Coast Provincial General Hospital where multiple emergency treatments are being provided.
The centres are situated at Majengo Dispensary in Mvita Sub-County, Port Reitz in Changamwe Sub-County and Utange in Kisauni Sub-County.
"They are well facilitated with trained health officers who are working round the clock to ensure residents are tested, contained and treated for cholera or any other diarrhoea-related diseases," added the doctor.
STANDARDS
Dr Shikely and county health director Shem Pata engaged village elders in a consultative forum that aims at finding reliable solutions to health risks within the community.
They said they are finding possible ways of mitigating the spread of disease.
The community leaders recommended the reintroduction of community health inspectors who would ensure homes and business premises adhere to public health standards as required by law.