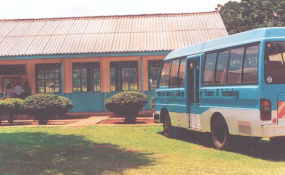 Photo: Daily Nation
By Benson Amadala
Masinde Muliro University has been closed indefinitely after the ongoing strike by lecturers disrupted learning at the institution.
The decision to close the university was reached by the Senate on Tuesday after considering a report from students.
Students were asked to vacate the institution by Wednesday morning.
A memo signed by acting registrar for Academic Affairs Prof Caroline Onyancha said reports from student representatives indicated that there was minimal learning going on in all campuses.
LOST TIME
The don said reopening dates will be communicated to students.
The administration said lost learning time will be recovered when the institution reopens.
"Any shortfall in contact hours resulting from non-attendance study sessions by staff shall be bridged through makeup sessions and all lecturers shall be required to meet students for a minimum of twelve lecture sessions before the start of end semester exams," the memo read.
International students will be allowed to stay in the university hostels during the closure, the memo indicated.