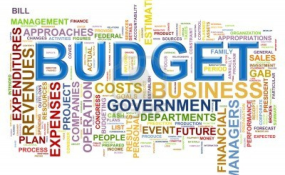 Photo: This Day
By Ismail Mudashir
The Senate has said the lackadaisical attitudes of top government functionaries towards invitation on 2018 budget may frustrate it passage by the end of next month.
The executive had set December ending for the passage of 2018 budget to enable the country commence January - December fiscal calendar year.
Responding to question on the budget, Spokesperson of the Senate, Aliyu Sabi Abdullahi said Senate was disturbed by a new trend where heads or chief executives of critical institutions who should play a critical role in the budget process choose to ignore the invitation by the Senate to appear before it for deliberation.
"Specifically [Tuesday] when we had a deliberation, the Minister of State for Budget and National Planning was around. But based on the discussion we were supposed to have; to look at the revenue projections which are the basis for the MTEF, I want to report here that the GMD of NNPC refused to show up. Governor of the Central Bank of Nigeria refused to show up. The Comptroller General of Customs refused to show up. The Director General of the National Bureau of Statistics refuse to show up. And the Director of DPR refused to show up.
" The question to ask here is this: if the national budget is very important and all of us depend on the resources of the country to run our businesses, what other business could be more important than looking at this very critical assignment for this country ?
" When you decide to send a representative that is powerless; that cannot answer critical questions; that cannot provide critical insight, it is as good as not showing up. And some of them never even sent anybody to represent them.
" It is important that we report this because, overall, the media will still come back to us asking what progress are we making and why are we slow in taking decisions. I must make this very clear. We are trying our best and we want to see what progress we can make but we are constrained by some of these types of decisions or actions by some chief executives from the Executive side. Let it also be said that some people are not giving maximum cooperation to the National Assembly for us to do our job," he said.
Sabi added that: " For example, on the issue revenue projections, where there are shortages, we will look at the performance in 2017 to see what informed the projection for 2018. But where these people are not there, how do you get answers to the things that agitate your mind?
" We are worried about this development and we want to urge all those who are responsible for some of these critical assignments must begin to realise that when the National Assembly is calling them, it is a national duty; it is a constitutional duty and they must take it seriously".