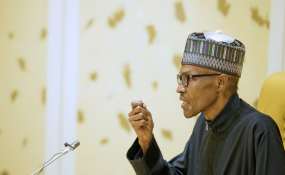 Photo: Premium Times
By Bola Ojuola
Akure — The National Leader of the All Progressives Congress (APC), Asiwaju Bola Tinubu, yesterday, said President Muhammadu Buhari is not stopping any member of the party from vying for the presidency ahead in 2019.
Tinubu who also said the party had not granted automatic ticket for Buhari, however, said it would not be an offence in the eye of the law, INEC and the party's constitution if leaders decided to endorse the president for a second term.
He made the comment in Akure, the Ondo State capital, during a visit to the leaders of the Pan Yoruba socio- cultural group, Afenifere, in company of the state Governor, Arakunrin Rotimi Akeredolu.
The APC leader, after meeting behind closed doors with the group in the home of its leader, Pa Reuben Fasoranti, told journalists that no governor could appropriate endorsement to himself.
He said President Buhari was a believer of due process and also believed in the rule of law.
"We wanted him even before the last convention and primaries of the party and Akeredolu is here standing with me, he was not the governor then, he was one of the leading delegates that voted properly and Buhari was a clear winner.
"We followed all the constitutional provision and an individual opinion does not matter at this stage. Buhari will want a normal process but if the national body, the NEC, and all of us as members, endorse him as our single candidate, we will not be violating INEC regulations, we will not be violating our party constitution. What you are hearing is just a campaign: Buhari has not excluded anybody and he has not infringed on anybody's ambition," Tinubu said.
On why he was in Akure at this period to meet with the Yoruba leaders, Tinubu said he was there to acknowledge the leadership of Pa Reuben Fasoranti as a great leader of the Omoluwabis (responsible or respectable people).
At the meeting were Chief Olu Falae, Chief Bisi Akande, Chief Sehinde Arogbofa and other leaders.