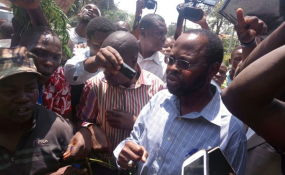 Photo: Rushdie Oudia/Daily Nation
By Rushdie Oudia
Kisumu Governor Anyang' Nyong'o's nephews have sued him and his sister Dr Nyagoy Nyong'o for leaving out some relatives in the list of beneficiaries for his father's estate.
The governor's father Shimei Nyong'o died without a will.
LEFT OUT
Mr Geoffrey Omondi Nyong'o and Kenneth Odhiambo Okuthe said the governor and his sister were made the administrators of the estate after the chief certified that the two, their mother and other siblings were the true beneficiaries.
The respondents, however, claimed the administrators left out two of their siblings' children from the list of beneficiaries.
They accused them of neglecting the children of the late Margaret Awuor Dick and Judith Nyong'o.
ACCOUNT
The applicants are accusing Prof Nyong'o and Dr Nyagoy of concealing material facts on confirmation of the grant and not accounting for the estate.
The duo are in court seeking revocation or annulment of the letters of administration.
"We want our late mothers to also have their equal share of the same (estate) like the rest and also the administrators to render books of accounts on how they have managed affairs," said Mr Omondi.
He said an audit should be done so that everyone gets their due.
HEARING
Mr Omondi filed the case under a certificate of urgency, saying he feared that Prof Nyong'o could sell or transfer the estate.
The inter-parties hearing of the application is scheduled for November 29.
On the same day, the hearing of an election petition contesting Prof Nyong'o's win resumes. It was filed by former Kisumu Governor Jack Ranguma.