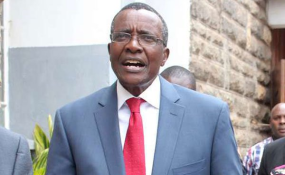 Photo: Dennis Onsongo/The Nation
By Ibrahim Oruko
Chief Justice David Maraga Wednesday left the country for Kigali, Rwanda where he will attend the 14th annual meeting for the East African Magistrates and Judges Association (EAMJA).
During the meeting, EAMJA will also hold a conference to deliberate on ways of improving the delivery of justice in the region.
The theme of the conference will be "Enhancing the use of ICT for an Effective, Transparent and Accountable Administration of Courts in East Africa".
The conference will also be attended by the chief justices of Uganda and Rwanda and the president of the East African Court of Justice along with other top judiciary officials from the region.
BEST PRACTICES
High Court Judge Luka Kimaru, who is the EAMJA president, said the exchange of ideas would help member countries borrow best practices from each other.
"Participants will [get] the opportunity to build linkages and continue to learn from each other long after the conference," he said.
He revealed that the association strives to bolster judicial independence, eradicate corruption and adopt best practices in court administration.
Besides Justice Maraga, others in the Kenyan delegation include Supreme Court Judge Isaac Lenaola and Chief Registrar of the Judiciary Anne Amadi.
Kenya's dramatic progress in the adoption of ICT in the delivery of judicial services will be a key focus at the conference.
Participants are drawn from all East African countries with additional representation from members of the Commonwealth.