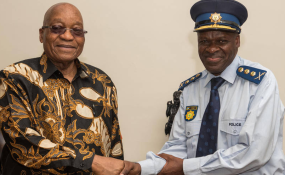 Photo: GCIS
While much has been said about newly-appointed national police commissioner Lieutenant-General Khehla Sitole, there are a few facts that people may not know.
Sitole is well known in police ranks and has been lauded for his experience in operational policing.
However, here are a few facts that may not be that well known:
- He has been a long-standing member of the police service, joining over 30 years ago in 1986;
- In 2013, disgraced former police commissioner Riah Phiyega appointed him deputy commissioner for policing operations;
- He has attended advanced management development programmes;
- He has also attended advanced financial management programmes and
- He has held several senior positions, including that of provincial commissioner in the Free State.
News24