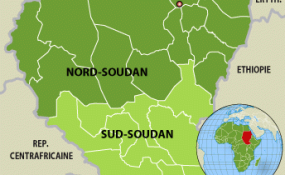 Photo: Latifa Mouaoued/RFI
Khartoum — The sixth meeting of the joint committee for the demarcation of the border between Sudan and South Sudan Wednesday held a meeting at the Friendship Hall in Khartoum.
At the meeting, the State Minister at the Presidency of the Republic, Al-Rashid Haroun, said that the joint border issue is extremely important and considered a strategic one for both Sudan and South Sudan State.
He asserted the resolution to realize aspirations of the two sister nations for achieving durable stability and peace.
The chairman of the Sudanese side at the meeting, Prof. Abdalla Al-Saddiq, indicated that the meeting is aimed for mapping out an integrated report on description of the joint border prior to the demarcation of the border on the ground via specialized committees.
The Ambassador of South Sudan, Darios Garang, said that the meeting comes as extension to former meetings, reiterating the keenness of his party to overcome any challenges that may encounter the committee through cooperation and deliberation with the Sudanese side.