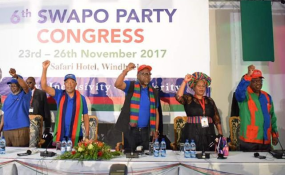 Photo: The Namibian
By Werner Menges
An attempt by four Swapo members from Omaheke to have 27 delegates from their region barred from attending the Swapo Party congress was dismissed in the Windhoek High Court yesterday.
The application of Swapo members Kejamuina Mungendje, Maleagi Ndisiro, Frans Murangi and Progarius Muriambihu was dismissed by deputy judge president Hosea Angula late yesterday afternoon, after he had heard close to eight hours of oral arguments from five lawyers involved in the matter.
Judge Angula said he would hand down reasons for his ruling on 28 March next year.
The four applicants were alleging that the electoral processes followed in Omaheke to elect the 27 delegates for the party's congress, which is scheduled to start today, were flawed and resulted in delegates being chosen irregularly.
Swapo secretary general Nangolo Mbumba denied the allegations in an affidavit filed at the court.
Mbumba said the four applicants previously held positions in Swapo's structures in Omaheke, but they failed to get re-elected because of a lack of support among party members during the conferences held in the region in the run-up to the congress, and they also did not exhaust internal processes within Swapo to have their grievances addressed before they lodged their case in the High Court.
Mungendje, who was previously the ruling party's regional coordinator in Omaheke, had a duty to supervise elections at district conferences and lower levels in the region, but failed to carry out that duty and could not now complain about alleged irregularities which he was supposed to have addressed but failed to do, Mbumba also stated.
During the hearing yesterday, three of the lawyers representing some of the 76 individual respondents who were sued argued that the application had to be declared a nullity because the respondents had not been given a proper opportunity to prepare their response to the legal action that was taken against them.
One of the lawyers, Gerson Narib, noted that the court documents were not served on the respondents, with the result that they did not know what the allegations about the alleged irregularities in the delegate election process were, while they were given little more than a day this week to prepare their answering affidavits and file those with the court. Because of those shortcomings in the application, the proceedings were stillborn and should be set aside, Narib argued.
Norman Tjombe, also representing some of the individual respondents, supported Narib's objections about the fairness of the procedure followed to notify the respondents of the legal action taken against them. His clients were not given adequate time and facilities to prepare their case, and the application should be declared a nullity, Tjombe argued.
Swapo was represented by South African senior counsel Vas Soni, assisted by Sackey Akweenda. James Diedericks represented some of the other individual respondents.
Mungendje and the other applicants were represented by Tuhafeni Muhongo and Kadhila Amoomo.