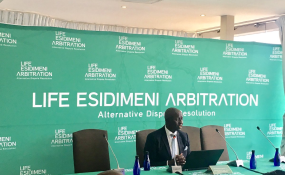 Photo: Gauteng Health Department
Suspended Gauteng director of mental health Dr Makgabo Manamela went head to head with Justice Dikgang Moseneke during her second day of testimony at the Life Esidimeni arbitration hearing.
Manamela was visibly annoyed as Moseneke grilled her on her role in the transferring of mentally ill patients from Life Esidimeni facilities to various NGOs, across Gauteng.
She was at the forefront of the project, which later saw 143 patients die at some of the NGOs.
Manamela and Moseneke were at loggerheads over her involvement in the issuing of a licence to the Takalani home for disadvantaged children, which she claimed to have visited.
She testified that Takalani, prior to the transfer, had managed to acquire over 100 beds to add to the 40 available for the transfer of patients.
Manamela confirmed that over 100 people had been moved to Takalani.
'I am not quite sure of the number'
Moseneke questioned this, saying: "I don't understand how you could say you went there. It was all fine and you sent people there and they died? Why must I believe it was all fine, and people start dying?"
A tense exchange erupted between the two as Manamela tried to defend herself by shifting the blame to the suspended head of the Gauteng health department, Dr Tiego Selebano.
Moseneke interrupted Manamela, asking her to give him the number of people who died at Takalani after she issued the licence.
"I am not quite sure of the number, because I left earlier," she answered.
"Well, I'll give you the exact number," he said. "I want you to respond to it. How could you have turned an NGO of 40 [beds] to 200 [beds], and you tell me it was all okay, and people start dying once you had moved them there?
"Can you see that doctor? Do you care to add up those people who lost their lives there. After you issued a licence, you allowed 100 people to live there?"
'Why did you still chuck people out?'
Manamela said said deceased patients were grouped together at NGOs such as Takalani and Mosego.
"So if you put them together, obviously the number will be high," she said.
"Okay, you know better. How many people died at Takalani?" Moseneke interjected.
After a minor exchange, Manamela said she had left her position at the beginning of this year, but calculated that at least seven people had died at Takalani.
Moseneke then asked Manamela why she had started a project when the department was ill-prepared for where these vulnerable people would end up.
"Why did you still chuck people out?" he asked
She responded that she did not "chuck people out". Family members present at the hearing then started heckling Manamela, saying: "Yes you did."
A report by the Health Ombudsman found that Manamela had no basis for issuing licences to the non-compliant NGOs.
On Monday, Manamela stalled the proceedings for three hours as she asked for a four-week postponement to allow her time to go through documents. The application was dismissed by Moseneke who said that it had no basis in law or fact.
Source: News24