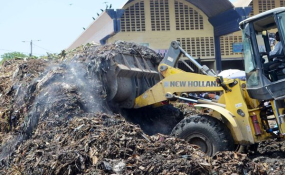 Photo: Kevin Odit/Daily Nation
By Winnie Atieno
The Mombasa County government will shut down unlicensed food vendors and hotels in an effort to eradicate cholera, County Health Executive Hazel Koitaba has said.
Ms Koitaba said the first cholera case was detected on October 19 in Mombasa.
"We are trying to contain the disease so that it doesn't spread. We have 80 [reported] diarrhoea cases but after testing, only 25 were confirmed to have cholera. Today we have two suspected cases whose specimen have been taken for further analysis," she said Thursday.
In an interview at the Public Health Department in Mwembe Tayari, Ms Koitaba said the county has established that cholera cases are as a results of food and water contamination.
FOOD VENDORS
"All illegal food and water vendors will arrested for operating without licenses. We will shut down the hotels. We must ensure our public are safe and [we will] curb the transmission," said Ms Koitaba.
The county has reopened emergency centres where people with cholera are isolated from all other patients.
She urged the public to take clean water and food from licensed vendors and hotels.
"Those bringing patients must ensure the vehicles are sanitised. We have been able to contain the situation [and] by next week we will eradicate it," said the executive.
FOUR PATIENTS
Four patients receiving treatment at the centres are from Kilifi and Kwale counties.
"We test and transfer patients with cholera to the centre. Please bring suspected cases to hospital and sanitise vehicles and tuktuks used to ferry patients with cholera to avoid cross-infection," she said.
She added that food and water vendors will not be allowed on the streets unless they have a (health) certificate.
"We have one case of a child being admitted but most of them are adults. Majority of the cases are from Jomvu and Changamwe sub-ounties," she added.