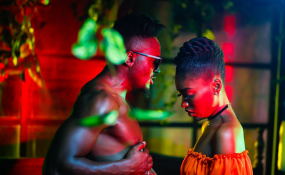 Photo: Capital FM
By THOMAS RAJULA
Sauti Sol debuted the first of the songs expected in their next LP African Sauce titled "Melanin", together with its video on November 21, and the reactions are as different as night and day.
The band said they will be dropping a collabo from around the continent every month for the next year.
The song features Nigerian dancehall heavyweight Patoranking, and let me just give the rating and warning I didn't get before viewing the video; NSFW (I guess you can also use it in the "Not Safe For Wife" context).
WHY I LIKED THE SONG
I liked the song for its sound. In the beginning, there's a nice acoustic guitar and vocal fusion for a few seconds.
There's something about that arrangement that makes you know that this is going to be a different Sauti Sol direction from the others that came before.
Patoranking's vocals on this part, as he sings "When a good girl gone bad, what you gonna do?/Run go meet her dat/we don't wanna do" then the chants of "Nana" come in behind that, it feels like a moment of true neo-African music. I may not understand what the second part still means but I was already pulled into the song. Before I knew it I had paused the video, and sent the link to my editor to see the "gold" I had come across.
PRESSED PLAY AND ALAS!
Then pressed play, and what do I see? Ladies in thongs with their backsides to us to view, oiled and in different sizes.
I'm not one to chastise art expressions, and I'm not, I'm just saying a la Kevin Hart "I wasn't ready!" I wanted to write an apology immediately to her, but I thought that would bring too much attention to the email and I hoped it would get buried in massive avalanche of god-sent emails.
It was really awkward when I went to talk to her later on and spot the email on her screen.
"So you're reviewing this?" she simply asked.
I said "Yes" then brought up six other topics before I left so that it wasn't the last thing on her mind as I walked away.
So they went for the more traditional, slim body model look, but you have to pick one struggle at a time, right? They did have a plus size woman on the set, even if that is the more rampant placed woman across the African continent, but they had picked skin tone as the struggle to fight with this song, so that was accomplished.
Like Lupita said it the other time, dark skinned women can have different looks from the normal short-cut hair we're used to seeing in the magazine.
And these girls had all the different hairstyles your typical African female would have.
I digressed so let me come back.
"She's a heartbreaker/She bend over backbreaker/steaming hot water vapour/ I wanna date her".
Simple enough to remember, and lets us know what the artist thought of this "good girl gone bad".
So this the gist of what the song's about from listening to the lyrics. This girl had so much melanin and also had so much moves on the dancefloor than any he had ever seen before. And that was 'the' allure to her, it made her irresistible. So fast forward, she's spent his money and he asks her why she wants "to do me so"; he doesn't want to let her go "just like that".
WHAT THE SONG IS ACTUALLY ABOUT
A lot of the comments I got when I shared the video was of people saying they didn't understand what the song is about, so there; I've broken it down.
I've already said the sound of the song had already pulled me in even before "the beat dropped".
I think even as the song continued on it didn't let me down. Tell me you don't imagine that bass thumping in the best sound system out there? Props to Ralf "Spootnic" Petter on the mixing. I'm also not of the view that the lyrics are especially shallow.
Have you dated a socialite, man or woman? I haven't but I hear that it's not easy, so when a celebrity tells you they are having a hard time getting on her diary it's best to believe it. We can't forget that they are also in the same song advocating for self-love and self-worth of the dark pigmented woman.
The visuals are also good! I mean the African print bathing suits, the make up on the models, the scenes where the shots are taken at, the props and lighting; I think this is simplicity presented sophisticatedly.
The makeup on the girls was also on point, dark never looked chocolatier than that.
These are the equipment and creativity we need for the local scene; improvising then making the aesthetical presentation a marvel.
Olusegun Adepoju and Yinka Sholola from Capital Dreams Pictures did a god job on this one under the direction of Clarence Peters.