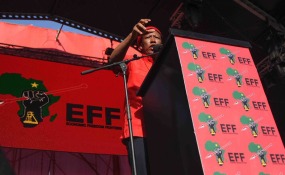 Photo: Economic Freedom Fighters
Economic Freedom Fighters leader Julius Malema explained that, when he found himself in hot water with the South African Revenue Service (SARS), he was under the impression that the employer was the one responsible for ensuring that he complied.
Malema was responding to a question from a guest attending the Daily Maverick's The Gathering at the Sandton Convention Centre on Thursday evening. He was asked to apologise to the nation for not paying his taxes.
"SARS' first task is to educate the taxpayer. I come from a very poor family. I never had the type of education qualification that I have now. I had very little knowledge (then) on how taxes are dealt with.
"I actually thought that my employer is responsible for my tax," he said.
When the matter was eventually brought to his attention, he said it was brought with an intention to "attack" him.
"If that is the attitude of SARS, it will collapse. It must not have an attitude of punishing people."
He said SARS' first intervention should be ensuring compliance: "It must help you to comply and not even a single day did SARS help me to comply."
Malema said no one came to him and told him: "'Julius, you have made a mistake. Let us sit and correct this.' They have never done that," he said.
Views on white monopoly capital
Malema believes he was attacked because he held a different view on white monopoly capital.
He said he took a dossier to SARS and in it he informed SARS about the existence of a rogue unit.
"It is only after I said to them, there is a rogue unit following us and doing all types of things, did I become an enemy with SARS."
He said SARS went after him for political expediency and for racist reasons.
"They should have helped me to comply and, after failure to comply, then they must punish me. That is how you build a country. You don't just attack and then hope for co-operation."
'I am no coward'
Malema added: "Once you attack me, I am going to react. I am no coward and I took SARS to the cleaners."
"They gave me the first assessment. I queried it and then they attached my properties with the hope that they will destroy me. Little did they know that I was not a product of material (things). I come from a very poor background and I have survived difficult conditions for me to be where I am today."
He said SARS settled because he fought with them.
The matter was eventually struck from the roll and settled, but SARS continued to chase him, he said.
'They pursued me. I pursued them back'
"They pursued me. I pursued them back. Then we went to the settlement court and the court gave me a settlement and they wanted almost R18m from me and we settled with R1.8m because I told them that I had nothing except the salary from Parliament."
He claims SARS wanted to sequestrate him because they wanted him out of Parliament.
"These are the shenanigans. They wanted to sequestrate me because they wanted to take me out of Parliament for the simple reason that they did not agree with me."
"So why should I apologise for people who are pursuing me for political reasons?"
He said he would not apologies for the political onslaught.
Source: News24