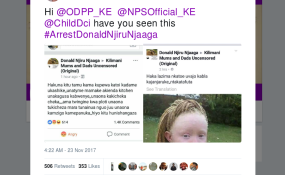 Photo: Nairobi News
By Evelyne Musambi
Kenyans on social media are calling for the arrest of a suspected paedophile who, in a chilling Facebook post, sex objectified the top KCPE girl Goldalyne Kakuya.
The man, whose Facebook account name is Donald Njiiru Njaaga, posted a distasteful comment on his desires to defile the young girl.
A screenshot of the message was shared widely as users called on the Office of Public Prosecution to order police to investigate and track down the account owner.
Kenyans on social media also want the account owner tracked down and charged so as to serve as a lesson to other perverts and avert rape cases.
Some, however, wondered if the account was genuine or a pseudo and if investigating it would reveal a suspect.
A tweet of the screenshots elicited hundreds of reactions online as Kenyans called for serious investigations.
Hi @ODPP_KE @NPSOfficial_KE @ChildDci have you seen this #ArrestDonaldNjiruNjaaga pic.twitter.com/Pg9czIlpwW
-- Jennifer Kaberi (@Dalithso) November 23, 2017
The ODPP's Twitter account was quick to respond writing, "Noted and taken up the issue. We will keep the public informed about #ArrestDonaldNjiruNjaaga."
Users weighed in further pushing the responsible bodies to hasten investigations and arrest of suspect.
@aystaparmwinzi wrote, "This is wrong in all ways possible. That man is a paedophile 😠"
@pauldaviddavies added, "I have a daughter and won't allow this kind of character survive... lock this guy up in some filthy cell."
@Aminaah21 tweeted, "Whoever this fellow is, he must be brought to book, authorities must send a clear message that even the idea of defiling a minor is as criminal as any such actions #ArrestDonaldNjiruNjaaga."
@kietiMD stated, "Plus start with the admin of the group, this is a criminal living amongst us. The admin should have censored their members who propagate such criminality."
@Delio_Lekarsia wrote, "Please @ODDP_KE act in haste before these sexual predator lands on a victim #ArrestDonaldNjiruNjaaga."
@kassembanda tweeted, "this is terrible .so many idiots with access to internet,@matundura78 please nip him in the bud. Our children need protection."
@CarolineMtai wrote, "Culprit is in violation of Section 12(a) of the Sexual Offences Act which attracts a maximum penalty of 5 years imprisonment. Do not condone sexual violence or even suggestions of it against children."
@VIsiavale added, "hii tabia ni mbaya sana , such individuals dont belong to the society . he should be arested haraka."