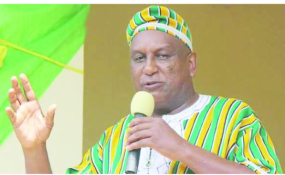 Photo: The Liberian Observer
By Yawah Jaivey
Margibi County — - Senator Oscar A. Cooper is calling on political parties protesting the results of the October 10 polls to abandon their legal pursuit against the National Elections Commission (NEC).
The Margibi County Senator, who himself contested in the October 10th polls as an independent Presidential candidate and lost, decried that the political impasse in the country has created unbearable hardship for Liberians.
Senator Cooper is urging leaders of Liberty Party (LP), Unity Party (UP), Alternative National Congress (ANC), All Liberian Party (ALP) and all other institutions to realize the need to put Liberia first by unconditionally accepting to go to the runoff in the interest of the people and country.
"I want to urge especially the Liberty and Unity Parties that in the interest of our country, let's accept to go to the runoff in order to keep the democracy and stability of our country moving forward. As we are in this holding pattern, investors are going run away from our country," Senator Cooper noted.
He averred that the political stalemate has caused uncertainty in the country, thus forcing industrial institutions and local businesses in the country to hold on to their finances.
The Margibi County lawmaker noted that the situation has plunged an already devastated economy into a difficult state, affecting mostly ordinary Liberians through the cost of living.
Senator Cooper, who was recently appointed by the Liberian Senate as a member on a seven-member Special Committee headed by Honorable Armah Zolu Jallah, President Pro-Tempore of the Senate, said that he intends to appeal to the Liberian Senate on behalf of Liberians to urgently prevail on all the parties protesting the results of the elections to amicably resolve the stalemate in the name of the peace and stability.
It can be recalled that recently situation surrounding the Presidential and Legislative Elections held on October 10, 2017 became a subject of debate and consultations at a Special Retreat held at the Farmington Hotel on Tuesday, November 14, with the aim to strengthening democracy and its relevant Liberian institutions and to consolidate peace in Liberia.
In a bid to intervene in the political impasse in Liberia following the Supreme Court's injunction on the runoff, the Senate constituted a Special Committee charged with the responsibility to consult with all relevant political and other national leaders as well as with regional and international partners with the aim of resolving disputes arising out of these October 10 Presidential and Legislative Elections and to ensure the people of Liberia and the world at large that Liberia remains peaceful and will strictly follow the constitutional course in the transfer of power.
Those appointed to the Senate's Special Committee are; Armah Zolu Jallah, President Pro-Tempore, Senator J. Gbleh-bo Brown- Maryland County, Senator Peter Coleman-Grand Kru County, Senator Nyonblee Karnga-Lawrence- Grand Bassa County, Senator Oscar A. Cooper-Margibi County and Senator Marshall Dennis-Grand Gedeh County.