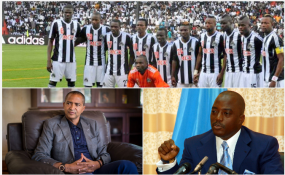 Photo: allAfrica
Pamphile Mihayo (Head Coach, TP Mazembe)
I'm very happy for the result. It is not easy to get such a result especially away from home. Supersport were present in the game in the second half and wanted to score, but my players defended gallantly. They pushed us but we never held back. I congratulate my team as tactically we were better.
We started very well and had two chances to score in the opening 15 minutes, but we failed to score. Then it switched to supersport and started to push us.
I'm very happy to win this title and I congratulate my players for helping me to achieve this feat. It is important to win such titles for me personnally and the team as a whole. When I was appointed, most journalists doubted my capabilities, and winning the title makes me the happiest man in the team.
I'm a son of Mazembe and it will always be my home. I have won two trophies in one year (DR Congo league and now CAF Confederation Cup). It is up to the executives to judge my performance. If they feel I'm the right man and deserves an extended contract; I am always around. If they decide to appoint another coach, I will still be ready to work under that person. This is because Mazembe is my team and my home.
Eric Tinkler (Head Coach, Supersport United)
It is a massive disappointment for everybody. It is never a good feeling to end as runners-up. We let ourselves down.
Mazembe started better and pressed us in the opening 10 to 15 nminutes. And that start caught us by surprise. They had two chances, but failed to score. Then after we settled and started to take control. Football is about creating opportunities to score and I don't think we did enough of that during the 90 minutes. We did not produce enough quality in the final third to get that 'goal'. We have to give some credit to Mazembe. Losing doesn't make us a bad team, neither me a bad coach nor the players bad. We have to move on and focus on our next objective, which is the domestic league.