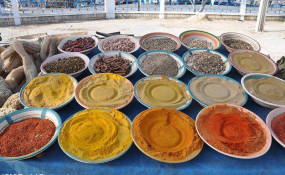 Photo: Daniel Beaumont/FAO
By Alfred Zacharia and Janeth Muhizi
Dar es Salaam — Low capacity spice production and poor quality have been cited as among key reasons growers fail to rake in the millions of US dollars the market is ready to offer.
Lack of know-how and that of capital all cause growers to be disadvantaged to the extent that they fail to satisfy the needs of both the local and international demands.
Tanzania Trade Development Authority (TanTrade) director general Edwin Rutageruka made the revelation at the weekend adding that the volume of spices produced annually in Tanzania does noteven satisfy the local demand. He was speaking on Friday at a spice stakeholders.
Mr Rutegaruka said Tanzania produces only 3,500 tonnes of cloves, 3000 tonnes of black pepper, 7,000 tonnes of ginger, 150 tonnes of cinnamon and 1,000 tonnes of cardamom annually. The global demand stands at 750,000 tonnes.
"It is a strange scenario. On one hand, manufacturers lament of inadequate supply of spices, while on the other complain of lack of market for their products. Both sides have lodged their complaints to my office," he said.
For his part, Zanzibar State Trading Corporation managing director Salum Kibe said Tanzanians missed the opportunity to export spice due to poor quality and quantity.
"I was in Dubai last month, one of the businessmen asked me to export about 3,000 tonnes of black pepper within three weeks but I failed to collect the consignment, there was simply no supply from growers," he said.