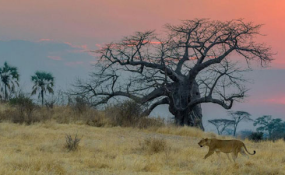 Photo: The Citizen Tanzania
By Mugini Jacob in Mara
MARA Region plans to market its tourist attractions in and outside the country, the Regional Commissioner (RC), Mr Adam Malima has said.
The plans would make the tourism sector help to boost the regional economy, according to the RC. The plans on table to open up Mara tourism industry among them was to improve road infrastructure, airport and hotels to woo visitors.
"A strategy is in place to improve and market tourist attractions available in Mara region", Mr Malima said recently when he was officially closing a crucial meeting he held with senior government officials from all districts in the Lake Zone Region.
The two-day meeting held in Tarime discussed key plans aimed at speeding up economic and social development in the region. The government is currently investing heavily on improvement of transport infrastructure in the region.
For example huge money is being spent to tarmac Makutano- Juu- Natta road which would link the wildlife- rich district of Serengeti with Lake Victoria upon completion. Musoma airport is also expected to have a new look once ongoing plans to improve it will be done.
Business people in Mara can take the advantage of the world famous Serengeti National Park (SENAPA) and other tourist attractions like Lake Victoria and the Mwalimu Nyerere Butiama Museumu to invest in tourism sector.
Besides culture issues, the region is also blessed with other tourist attractions like beautiful hills , water falls at Mara river which need to be developed and marketed to make the tourism industry sector vibrant.
Investment on tourist hotels and tour operating companies is also another business opportunity that needs serious investors in the region. Meanwhile, the Mara RC Mr Malima also said that minerals sector must also have a significant contribution on the region's economy.
"We want to know the contribution of minerals sector in Mara region ", Mr Malima noted vowing to assess the performance of mining sector in the region. North Mara is considered the largest gold mine operating in the region but there are many other small gold mines scattered in various parts of the region.