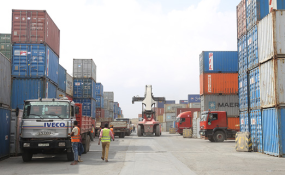 Photo: Addis Fortune
By Haiamanot Ashenafi
In response to Maritime Affairs Authority's formal request, Ethiopian Freight Forwarders & Shipping Agents Association (EFFSAA) has proposed its demand for common use facilities at Modjo Dry Port, which is under expansion.
Mekonen Abera, director general of Ethiopian Maritime Affairs Authority (EMAA), received the final document from Salahadin Khalifa, president of EFFSAA, on November 21, 2017, in a ceremony held at Sheraton Addis Hotel.
The research that cost the association more than half a million Birr is intended to be an ingredient to the expansion of Modjo Dry Port which sought to transform the logistics sector in the country.
Common use facilities are infrastructures open to different operators enabling them to use the same domain just like the airport's lounges, and gates are shared by various airlines on a lease basis.
The study has assessed and established needs that are of critical significance to the Association. Outdated services, extended delays, lack of storage and unimproved facilities were indicated as the face of the current logistic service by the assessment.
Potential opportunities for private operators' engagement identified by the study include last-mile logistics services, a delivery service from distribution centre to the end user and engaging with forwarding services for exporters.
Ethiopia is now spending 25pc of its GDP on logistic services, 15pc higher than the recommended amount. This led the country, amongst 195 nations, to rank 126th in its logistic performance. Only a quarter of the total exported amount is packed in Ethiopia while the remaining is stuffed in Djibouti.
"It was before 20 years that the government should have taken these measures," Salahadin told Fortune.
The study recommended the local logistics operators to lease facilities in the dry port and engage with value-adding services for imported items, such as unpacking, sorting, labelling and distribution.
In the export market, the private sector can involve in the packing, sorting, labelling, providing hot and cold storage for perishable cargo, quality control and container cleaning facilities.
"The study will help the Authority to materialise its need for the involvement of private sector in detailed operations," said Mekonnen.
With a plan to create a hub at the Mojo Dry Port, the Maritime Affairs Authority is working closely with the World Bank (WB), World Food Program (WFP) and United Nations Development Program (UNDP).
Some months ago, WB committed 150 million dollars to transform Modjo Dry Port, which handles over 70pc of the container traffic in the country with a capacity of holding 14,500 containers at once.