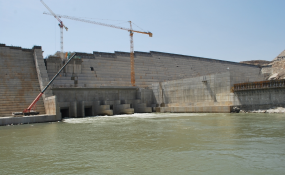 Photo: Ethiopian Herald
By Haftu Gebrezgabiher
The Army forces, beyond the purely military services, have also playing their own role through contributing close to 810 million Birr to the construction of the Ethiopian flag project, during the last six years.
The Army forces, ever dedicated to preserve national prestige, is also undertaking various development activities in the Grand Ethiopian Renaissance Dam (GERD).
In the stride to achieve the vision of middle income status, the GERD is number one project that will feed the growing economy of the nation.
In line with this, hence, the Army is striving hard and the Dam is now the other playground that it is demonstrating its advancement and ability by taking part in the construction activity mainly engaged in the electro mechanical part of the Dam, Defense Forces Public Relations Acting Director Colonel Kahsay Berhe told The Ethiopian Herald.
In addition to construction activities, the troops are manifesting their civility to the community through lending them a hand with harvesting, nurturing seedlings, watering and other similar activities including protecting and conserving the environment
"The Army is participating in the construction activity of major roads, building schools and health posts in collaboration with local community so as to respond to natural disasters thereby fight against poverty."
He further said that the FDRE Defense Forces are mobilizing resources of all kinds and are actively engaged in local ecological conservation. They are also relentlessly rendering supports whenever needed.
Noting that the Ethiopian troops under peacekeeping missions have played impressive role to ensure global peace and stability, Colonel Kahsay said they have gained remarkable achievements in all respects and their activities lead to the glorious rise of the nation.