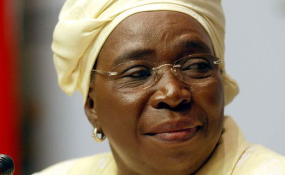 Photo: Addis Fortune
analysis
One of the more persistent predictions ahead of the ANC's national conference has been the claim that it could all fall into chaos marred by legal claims and counterclaims, confusion, flying chairs, and much worse. Despite that, proxies of all sides have been at pains to claim that the conference will happen, and a new leader for the party will be elected. However, events in the Free State ANC on Tuesday evening and then in court on Wednesday show how difficult it may be to make that increasingly distant dream happen. By STEPHEN GROOTES.
First, the ANC in the province held its Provincial General Council (PGC) on Tuesday. Then, just hours later, on Wednesday the High Court ruled that several branch general meetings held in the run-up to that conference had not been properly conducted, which appears to render that PGC null and void. What it almost certainly does mean is that the Free State ANC cannot hold its leadership conference this weekend.
Prepare. The next three weeks are likely to be marked by the the twin potholes of "Confusion" and "Dispute".
ANC Deputy Secretary-General Jessie Duarte was quoted at the PGC on Tuesday evening as saying the preparations had...