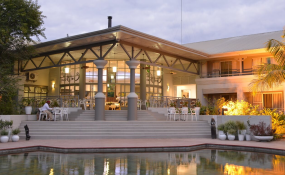 Photo: Cresta Hotels
Cresta Hotels continues to undertake upgrading and renovation work at its various hotels in southern Africa, including Zimbabwe, recently completing project work at Cresta Churchill in Bulawayo and announcing project work for 2018 at Cresta Oasis and Apartments in Harare.
When it comes to hospitality in Zimbabwe, there are few operators with the experience and track record of Cresta Hotels.
The group runs five hotels across the country, and in the past five years, has undertaken a development and expansion programme to enable it not only continue as a major player in the travel and tourism sector, but also to enhance and increase the scope of that role.
Cresta CEO Glenn Stutchbury believes the future potential of the travel and tourism sector in Zimbabwe is enormous and, given recent events, could soon be realised.
"One of the benefits of the recent massive level of international publicity for Zimbabwe is that more people recognise and know the country than before, and if we can harness this understanding to promote travel here, then we will have done ourselves a major service, over and above the obvious positive outflows from the situation," he said.
Cresta is well placed to take advantage of increases in arrivals, whether for business or leisure purposes. In Harare it operates the leading hotel in the three-and four-star market, Cresta Lodge, with two city centre hotels aimed primarily at business guests and the conference market: Cresta Oasis and Apartments and Cresta Jameson.
In Bulawayo, it runs the Cresta Churchill, a suburban hotel with a longstanding reputation for fine hospitality, while in Victoria Falls it operates Cresta Sprayview, aimed mainly at leisure travellers from all source markets, local, regional and international, but also at the local market for conference activity.
"We have positioned our group's hotels to be in key locations and these complement the 11 hotels we also run in Botswana and one hotel in Lusaka, Zambia," said Stutchbury.
Developments during the past five years have been focused on upgrading all the hotels and expanding the level of offerings, as well as ensuring that service standards move to world-class levels to satisfy the needs of widely-travelled visitors who experience such standards at other destinations to which they travel.
Cresta Lodge will in early 2018 celebrate its 25th anniversary and is well established as Harare's leading suburban hotel.
Between 2012 and 2016 a $6-million investment programme saw the complete refurbishment of the hotel, including all 171 suites and bedrooms, all public areas and Chatters restaurant, as well as the conversion of the lounge area into the upmarket Cool Beans coffee shop.
The programme also saw the construction of the Cresta Sango conference and banqueting centre, now one of the busiest in Harare.
Cresta Oasis and Apartments, which underwent various refurbishments over recent years, will in early 2018 completely renovate bedrooms and suites.
Within the hotel, the leisure club that has for many years been leased out to franchise-holders will be taken back under the hotel's own wing and will be run as an upmarket entertainment venue.
Cresta Jameson, celebrating its 60th anniversary during 2018, has focused on a role as a venue for conferences and banqueting events, as well as accommodating budget travellers.
After experimenting with several models of operation it has re-established its Tiffany's restaurant and revamped the style of cuisine and service, introducing the ChimbiChimbi menu in its ground floor dining venue, the Sandawana.
Cresta Churchill has completed a seven-month, $4700 000 refurbishment programme and enters 2018 with all suites and bedrooms refurbished and bathrooms completely renovated.
The hotel regains its position as the leading hotel in the city of kings, Bulawayo, and looks set to increase levels of support from all sections of the market.
Victoria Falls' Cresta Sprayview was opened in 2013, after Cresta Hotels entered into an agreement with property owners to convert the hotel into an entity aimed at international and local travelers in the three-star market.
It also hosts conference facilities mainly focused on small to medium-size gatherings from within Zimbabwe and the region.
"We have something for everyone and our focus has been to maximise quality of infrastructure, service and other offerings while at the same time offering the most competitive of rates in the markets we serve," said Stutchbury.
"As we move into 2018 and a hoped-for increase in visitor arrivals, as well as a re-invigoration of domestic travel, we are well positioned to take advantage of all opportunities that come our way.
"We are also active across the world in creating business for Zimbabwe and for ourselves, and we are delighted with all developments that have increased and will increase visibility for Zimbabwe as a major travel and tourism destination."