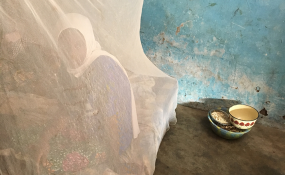 Photo: P.Utomi Ekpei /WHO
RESIDUAL malaria remains a critical health threat in Tanzania and elsewhere, mainly in Sub-Saharan Africa.
Medical experts now demand much better tools and strategies for tackling the disease, which is the most prolific killer in our country.
Acquisition of better medical tools is likely to point to a clearer understanding of the magnitude of the problem of residual transmission by exploring and evaluating the current knowledge on vector biology and malaria transmission.
At the moment, tremendous effort is underway and large investments in funds and scientific knowledge by a number of partners. The upshot is near-complete control of the malaria vector. The lives of Tanzanians must be saved.
In Tanzania, approximately 80 per cent of malaria deaths occur among children below five years of age and pregnant women. A recent national survey found that 18 per cent of children have malaria parasites.
This, indeed, is a worrisome situation. Despite the vigorous government efforts to wipe out the scourge wrought by the prevalence of malaria, it has been determined that the killer disease is spreading alarmingly in some parts of Tanzania, including Dar es Salaam.
The malarial infection rate this year has reached 14.8 per cent nationally compared to 10 per cent in the year 2012. It has also been established that three regions (Kagera, Geita and Kigoma) have the highest infection rates in the country.
This is an appalling situation that calls for special attention to combat the disease, which is now endemic in the three regions. Unfortunately, this year the malaria infection rate has started to increase intolerably nationwide.
In 2008, when the government introduced a special campaign to scale down the scale of malarial infections the rate was 18 per cent but in 2012 the campaign succeeded in whittling down the infection rate to 10 per cent.
Researchers at Ifakara Health Institute (IHI) have called for complementary control approaches to eliminate malaria, after learning that the remaining burden of the disease is now carried mostly by just one major mosquito species.
At the international level, the World Health Organisation says that hopes of eliminating malaria from more than 30 countries with a total population of two billion people have risen following the successful removal of the disease from Sri Lanka.
It is imperative to learn from the Sri Lankan example. The Asian nation invested generously in this noble struggle. This initiative calls for sustained use of insecticide treated bed nets and competent medical interventions. This is the direction Tanzania must take. It is now or never.