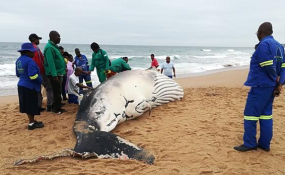 Photo: Supplied
A carcass of a humpback whale calf has washed up on KwaDukuza's Blythedale Beach, north of Durban, paramedic services said on Thursday.
The whale, measuring around six metres in length, washed up on the normally quiet beach on Wednesday, IPSS spokesperson Paul Herbst said.
Herbst said that a Sharks Board official had said that the whale would have been migrating back to the Antarctic.
"Whales migrate to colder waters to follow food sources. If the calf was too weak to complete the journey, it would have been left behind by the mother. There were no marks found on the carcass."
Herbst said local authorities were at the beach on Thursday, discussing logistics around the removal of the carcass.
Source: News24