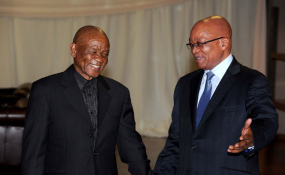 Photo: GCIS
analysis
In August 2014 Lesotho Prime Minister Tom Thabane appointed Atul Gupta as an "economic investment envoy". Thabane said ANC President Jacob Zuma had introduced him to the Gupta family and he had enlisted them "to help scout for investment" for the country. Now new evidence is emerging that the main "investment" the Guptas were touting - apart from in Thabane himself - was their takeover of a Lesotho diamond mine. By AMABHUNGANE, MNN CENTRE FOR INVESTIGATIVE JOURNALISM and SCORPIO.
23 October 2014: The two letters
The two letters that landed on Tlali Khasu's desk on 23 October 2014 were identical in almost every way.
Both carried the official letterhead of his office - the Lesotho ministry of mining - and both concerned the potentially lucrative but stalled Mothae diamond mine. The official who signed both letters on Khasu's behalf assured the readers that "I remain, Yours Sincerely, Tlali Khasu, honourable minister - mining".
The difference was that one brought bad news, the other a lucrative opportunity.
The two letters appear to have been the first step of an audacious plan orchestrated by the Guptas and their business partner Salim Essa to seize the Mothae diamond mine in Lesotho with the...