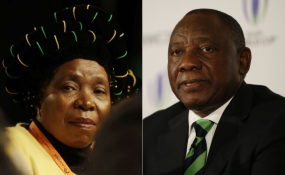 Photo: allafrica.com
analysis
In the Eastern Cape on Thursday, the ANC overwhelmingly nominated Deputy President Cyril Ramaphosa for president. It's the first of the big provinces to nominate, and so far Ramaphosa is doing better than pundits had expected. The rest of his list also tells an interesting story about the branches. By CARIEN DU PLESSIS.
It was short and sweet compared to the Eastern Cape's tempestuous elective conference two months before. No chairs were thrown and there were no reports of anybody being admitted to hospital.
Even "factional" T-shirts were forbidden at the provincial general council where Deputy President Cyril Ramaphosa was nominated by 423 branches for president, compared to 61 for ANC MP Nkosazana Dlamini Zuma.
It's surprising, because the divisions apparent at the provincial conference when delegates from the lobby supporting Dlamini Zuma walked out indicated that she should get about 45% of the branch votes here.
The actual branch nominations show that her support is more like 14%. That the her lobbyists have lost 15 out of 15 court cases in the province in the run-up to December's elective conference perhaps point to the fierceness of the effort they put into the fight here.
Should the delegates who support...