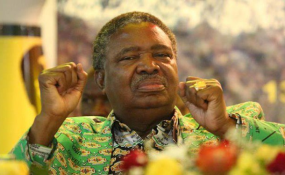 Photo: The Herald
By Nqobanbi Ndlovu
Botswana yesterday said it did not deport former vice-president Phelekezela Mphoko as President Emmerson Mnangagwa's government denied reports that he was detained by the army as he returned home on Friday.
Mphoko had been holed up in Botswana since the Zimbabwe Defence Forces (ZDF) launched Operation Restore Order, placing Mugabe under house arrest before forcing him to step down.
The Botswana government said Mphoko left the country voluntarily.
"In the context of media reports, speculation and inquiries this is to note for the record that the former vice-president of the Republic of Zimbabwe, Mr Phelekezela Mphoko, was not deported or otherwise forced to leave Botswana," the Botswana government said on Twitter.
"Mr Mphoko entered Botswana on November 22 2017 from a third country. He departed for Zimbabwe yesterday [Friday] of his own free will."
Former Higher and Tertiary Education minister Jonathan Moyo on Friday claimed Mphoko was detained by the army.
However, presidential spokesperson, George Charamba said the allegations were not true.
"The allegations coming from the Twitter handle of Jonathan Moyo? There is no truth in that and he is at his home," he said.
"You still believe Jonathan Moyo after all the disaster that he caused, he is trying to mislead through his Twitter [account].
"He is a coward and people must just ignore him."
Meanwhile, sources said the government still wanted to pursue G40 members that fled the country after the military takeover on November 15.
The targeted former ministers are Moyo, Saviour Kasukuwere, Patrick Zhuwao and Paddy Zhanda.
According to some reports, Moyo and Kasukuwere are in Mozambique, Zhuwao in Zambia and Zhanda in South Africa.
Sources said the four could be charged with corruption like former Finance minister Ignatius Chombo, who was arrested on the night of the army takeover of government.
Mnangagwa's government is likely to involve Interpol in the hunt for the ministers, the sources said.