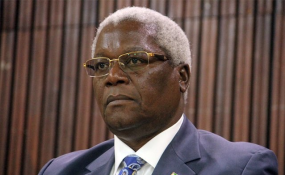 Photo: The Herald
Former Finance minister Ignatius Chombo's ex-wife Marian Chombo has appealed to President Emmerson Mnangagwa to repeal laws which infringe on people's rights.
In an exclusive interview with New Zimbabwe, Marian revealed that she feels for her ex-husband who is in Remand prison at Chikurubi Maximum prison, after being arrested a few weeks ago.
Chombo is accused of corruption, fraud and abuse of office involving millions of dollars.
Marian said although she is no longer married to Chombo there is still a connection and strong bond between them because of their two children.
"In light of what has been happening to my ex-husband, I view this in two ways: firstly, as a politician I want the law to take its course on the matter but, as a family person, although he is my ex-husband, I still have feelings towards him because he is the father of my children.
"What happened that Saturday surely is something that will never be erased in my mind? How could they chain him in leg irons? That was inhuman. It was not easy for me and I cried because he is the father of my children.
"Although we are divorced, culturally he is still my husband. I still carry the name Mrs Chombo and for me the treatment he was given was uncalled for. We have to review the Rhodesian system that we are still implementing on people. We need to revisit those areas. There is a need to have a re-look at such cruel conditions to those in incarceration. Even though he is in jail, he still has rights too," Marian said.
She added; "Temba Mliswa once called for prison conditions to be improved but nothing has been done and it is a pity when Chombo was in charge, he did not address these issues.
I hope if he gets another chance he will make things right, I appeal to the government to repeal such oppressive policies that are in place."
Chombo, who has denied bail by the lower courts, has offered to quit politics and return to farming or teaching once granted freedom.
He is being represented by prominent lawyer Lovemore Madhuku.