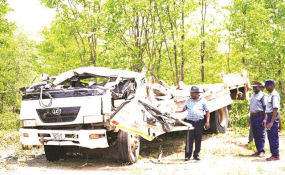 Photo: New Zimbabwe
Preliminary reports suggest that the driver of a truck which overturned killing 21 people in Tsholotsho Saturday was drunk and speeding, the minister of health has revealed.
Dozens of other people among the 60 passengers were seriously injured after the Nissan UD truck overturned along the Tsholotsho-Sipepa Highway.
The driver reportedly failed to negotiate a curve, resulting in the vehicle overturning.
Health and Child Care Minister Dr David Parirenyatwa said the 28-year-old was reportedly drunk and had been warned three times to reduce speed before the horrific accident.
The truck belonged to the ministry and was ferrying anti-malaria control teams to areas where they were working in Matebeleleland North province.
"Preliminary reports indicate that the driver of the truck was drunk and over speeding," Dr Parirenyatwa told NewZimbabwe.com.
"According to information which I have received so far, the driver was warned by the passengers not to over speed three times but he ignored the warnings. I am very disappointed about this incident."
Dr Parirenyatwa said his ministry has already approached the civil protection unit regarding assistance for victims of the accident.
"This is obviously a national disaster. We have already sent a request to the ministry of Local government for assistance of the victims," he said.
National police spokesperson Chief Superintended Paul Nyathi said investigations were underway.
"The accident occurred after the driver of a Nissan UD truck that was travelling to Tsholotsho with 69 passengers on board failed to negotiate a curve and lost control of the vehicle, which veered off to the right and overturned several times before landing on its roof," he said.
"Fifteen people died on the spot, while six others died on admission at Tsholotsho District Hospital."
President Emmerson Mnangagwa has declared the accident a state of national disaster.