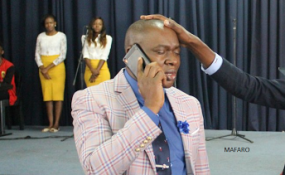 Photo: Nehanda
Former Star FM programmes manager Tichafa Augustine Matambanadzo has been summoned to return to court over fraud charges first raised in 2012.
Now employed by a rival broadcaster, he is accused of defrauding Star FM of over $60,000 by diverting advertising revenue to two companies he reportedly owned.
Popularly known as Tich Mataz, Matambanadzo allegedly misrepresented to clients that Star FM did not have the capacity to produce certain programmes.
He would then introduce himself as the company's agent through Hamtec and Onesay Investments - two companies he supposedly owned.
It is alleged Mataz would create documents using Star FM letterheads purporting that the radio station had authorised Hamtec and Onesay to secure advertisements on its behalf.
Prosecutor Peter Kachirika alleges that the DJ committed the offence between June 25, 2012 and May 15, 2013.
Star FM clients reportedly directed to deal with Matambanadzo's companies include OK Zimbabwe and the European Union's Harare office.
The two clients approached the Mataz' companies and placed advertisements which were later produced and flighted by Star FM.
In OK Zimbabwe deal, the radio station was prejudiced of $47,166 and in European Union Harare deal the company reportedly lost $9,904.
Matambanadzo is expected to appear before a Harare magistrate in January next year.