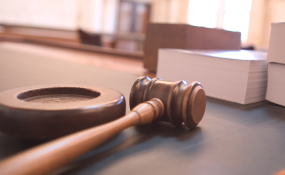 Photo: Joe Gratz/Flickr
A pregnant woman from Victoria Falls has been spared jail term for trashing property after she told the court that she acted in anger after discovering that her husband was a fake prophet who had sex with 'clients' at their their bedroom.
Queen Mudimba, 27, of Chinotimba suburb was nearly sobbing as she told magistrate Rangarirai Gakanje how she found her husband (name not given in court) having sex with women he claimed to be praying for.
The propeht was cought in the act on three separate occasions.
Mudimba said initially she believed that her husband was genuinely praying for people but got a rude awakening after finding him pants down with one Survive Moyo, the complainant in the case.
Takundwa Ndovorwi, prosecuting, and told court that Mudimba used an unknown object to smash three window panes at Moyo's home.
The soon-to-be mom pleaded guilty to malicious damage to property after she smashed three window panes worth $9 at Moyo's home.
The magistrate cautioned Mudimba to desist from violence.
"You should learn to find better ways of dealing with your husband than resorting to violence and destroying property. Next time you will go to jail," said the magistrate.
Testifying, the eight months pregnant Mudimba said: "I was angry when I caught my husband with the complainant, having sex.
"My husband prays for people and he came home with the complainant to pray for her, but to my surprise they ended having a love affair.
"I got angry because this was the third time I had found them in bed. I thought he was a genuine prophet until I caught them in bed."
She said she felt betrayed after discovering that the prophet's "regular client" was actually a lover and that the two had been having sex in her matrimonial bedroom.
Moyo however, denied having an affair with the 'prophet'.
"She (Mudimba) came fuming to my house and accused me of having an affair with her husband which isn't true.
"I only visited their place to be prayed for since her husband is a prophet," said Moyo.