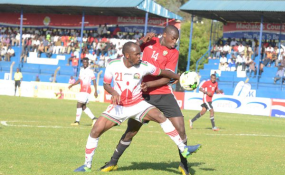 Photo: Vincent Opiyo/Daily Nation
The stage is set for the 2017 CECAFA Senior Challenge Cup which will be held in Kenya from Sunday, December 3 to 17, 2017 as 11 national teams vie for the right to be the best in the East and Central African region as well as share the $60,000 prize-money at stake.
The CECAFA Challenge Cup is the oldest football tournament in Africa and is contested by national teams from Council for East and Central Africa Football Associations (CECAFA) zone with occasional guests teams from other parts of the continent.
It is the successor of the Gossage Cup, held 37 times from 1926 until 1966, and the East and Central African Senior Challenge Cup, held 7 times between 1965 and 1971.
The tournament was last held in 2015 as Uganda won their 14th title after defeating Rwanda 1-0 in the final in Addis Ababa, Ethiopia.
This year's edition has attracted nine countries with Libya being the only guest side invited to grace the tournament.
Speaking to Cafonline.com on Friday, CECAFA Secretary General Nicholas Musonye said that all major preparations have been finalized to kick start this year's CECAFA Senior Challenge Cup at the two venues of Machakos and Kakamega in Kenya.
"All plans are in top gear ahead of the tournament which kicks-off on Sunday afternoon with the opening ceremony set for the Bukhungu Stadium in Kakamega."
Hosts Kenya are in Group A alongside Rwanda, Libya, Tanzania and Zanzibar whilst holders Uganda are placed in group B alongside Burundi, Ethiopia and South Sudan.
Kenya's Harambee Stars, under new Belgian coach Paul Put face off Amavubi of Rwanda who are managed by former Kenyan tactician and German-born Antoine Hey in the tournament opener on Sunday, 3 December 2017.
Though Group 'A' is officially placed in Machakos, their first group match goes to Kakamega stadium to enable the natives in the far western part of Kenya also watch their home team at 02:00pm local time.
Guests Libya will engage Tanzania Mainland in Machakos at 4:00pm on the same day.
The group stage matches will end on December 11 with Kenya battling Tanzania in the last fixture of Group 'A' at Machakos ground.
Rwanda, Uganda and Libya are using the tournament to better prepare their sides ahead of next year's Total Africa Nations Championship (CHAN) slated to be held in Morocco from January 12 to February 4, 2018.
CECAFA Challenge Cup Kenya 2017
Group A: Kenya, Rwanda, Libya, Tanzania and Zanzibar
Group B: Uganda, Burundi, Ethiopia and South Sudan
Fixtures
03.12.2017 Kakamega Kenya vs Rwanda
03.12.2017 Machakos Libya vs Tanzania
04.12.2017 Kakamega Uganda vs Burundi
05.12.2017 Machakos Zanzibar vs Rwanda
05.12.2017 Machakos Kenya vs Libya
05.12.2017 kakamega Ethiopia vs South Sudan
07.12.2017 Machakos Tanzania vs Zanzibar
07.12.2017 Machakos Rwanda vs Libya
07.12.2017 Kakamega Ethiopia vs Burundi
08.12.2017 Kakamega Uganda vs South Sudan
09.12.2017 Machakos Rwanda vs Tanzania
09.12.2017 Machakos Kenya vs Zanzibar
10.12.2017 Kakamega Ethiopia vs Uganda
11.12.2017 Machakos Libya vs Zanzibar
11.12.2017 Machakos Kenya vs Tanzania
11.12.2017 Kakamega South Sudan vs Burundi