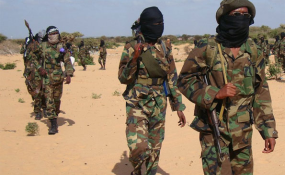 Photo: Daily Monitor
Al shabaab militants have launched an attack against Somali military convoy in Southern Somalia on Sunday morning, 3rd December.
The attack took place on the outskirts of Bal'ad located in Somalia's southern middle Shabelle region after Al shabaab fightera ambushed military escorting convoy carrying senior army commanders.
It's yet unclear the number of the casualty figures, but, Al Shabaab said in a statement that a top military commander named Mohamed Rageh was killed in the assualt
There was independent sources confirming the death of the officer and the government is yet to comment on the attack.