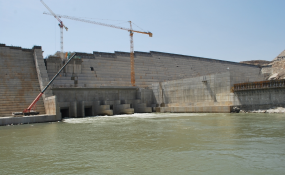 Photo: Ethiopian Herald
analysis
The Grand Ethiopian Renaissance Dam (GERD) is a flagship project Ethiopians are striving to actualize in a bid to root out poverty imbued with effectively and fairly harnessing resources at hand. This developmental feat was Ethiopians' long-cherished dream. This push to shape one's destiny reasonably harnessing nature-endowed resources is not subject to compromise. Nations,Nationalities and Peoples of Ethiopia are owners of the dam. It is a license that shows citizens' right to break away from the fetters of debilitating poverty rolling sleeves for fate-upturning developmental thrust. That is why all that run the gamut from high-ranking government officials to vendors are contributing their share for the construction of the dam.
Considerate, Ethiopians are constructing the dam taking justness into account. As it is by themselves citizens are bringing the dam into life, it will see completion irrigated by an unstinting citizens' support. Also as it is by the sweat of their brow Ethiopians are playing a midwifery role to the dam, this path-breaking project,63 percent through, also epitomizes Africans' capability of actualizing Mega projects by themselves. GERD is also a showcase of Ethiopians' sovereignty. Backed by an all-out support the dam is coming into life. As such it had thwarted the dependency syndrome previously affecting preceding generations. It has a significant contribution to the avowed-war against poverty. Creating the passion of "It is possible!"GERD has also provoked the passion of Ethiopians to accomplish something great. That is why it has taken aboard many. Aside from helping Ethiopia circumventing poverty,it as well helps riparian countries benefit from the hydro power the dam generates. It is in line with the principle of win-win approach and regional growth Ethiopia set the ball of the dam rolling. Accordingly,unflinchingly, it will press ahead with the determination of its. Ethiopia firmly believes that the dam,which holds promise to the future, creates no significant harm on lower riparian countries. This is a scientifically-substantiated fact. Generating power, the dam will make riparian countries and others beneficiaries of hydro power. It will allow lower riparian countries enjoy a regulated and regular flow of water. Experts and also politicians, those who are true to their conscience, know this undeniable fact.
With the intention of deflecting attention from inner political tension some Egyptian leaders,who do not want to see a strong, stable, prosperous and influence-commanding Ethiopia, cry foul about the dam. In their media outlets, they propagate anti-development outlooks that run-counter to scientific mindset. It is a deaf ear Ethiopians turn to such outlook divorced from modern trends
Recently, the 17th tripartite discussion was held among water ministries of Ethiopia,Sudan and Egypt. It was an impact assessment meeting on GERD. "How to fill the dam? and release water" were tabled for discussion. The meeting was meant to set a directive how the formerly elected two companies of France go about to conduct the study. Participants could not reach at a consensus since Egyptian representatives ,dragging a leg, displayed bent to protract discussions. They want the 1929 &1959 colonial Nile Waters treaties to be the ideals of the extra impact-assessment study. But Ethiopia and Sudan could not accept such claims. Egyptian representatives' outmoded stance clashes with a fair utilization of resources. Colonial agreements could hardly be fair. Nor could they be binding in this modern era. No one could dictate to Ethiopia to abide by colonial deals. Entertaining such a motive sounds untoward.
GERD is materializing taking into account international laws and equitable utilization of common resources. True to its name the grand dam epitomizes Ethiopia's Renaissance. Ethiopia wants to make a leap from agriculture-led economy to an industry-driven one. As such it needs it badly. Here it is important to note that the per capital income of Ethiopians is 800 USD while that of Egypt is 3514 USD.
"Do not use your resources! Sit idle with empty stomach simply staring at your resources!" is out of tune.
Forefathers paying all necessary sacrifices had bequeathed to this generation an independent nation. Ethiopians today have embarked on a historic chapter that narrates bequeathing poverty-unshackled country to the coming generation. That is why Ethiopians have placed focus on GERD to discharge historic responsibilities. Till the dam sees the day's light, Ethiopians will work day and night.