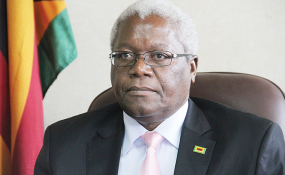 Photo: The Herald
By Wendy Muperi
Former Finance minister Ignatius Chombo has written to President Emmerson Mnangagwa appealing for mercy, claiming he learnt some hard lessons during the military's Operation Restore Legacy.
Chombo was among the high-profile government officials detained when the military took over power mid last month in a bloodless intervention that led to the resignation of then president Robert Mugabe.
He was a member of the G40 Zanu PF faction targeted by the military in the operation. Other cabinet allies have since scattered into self-imposed exile.
The once-powerful ex-treasury chief has been languishing in remand prison since, fighting for bail on charges of fraud and corruption. He is due before the High Court this week.
While congratulating Mnangagwa for succeeding Mugabe, in a letter dated 24th November, Chombo claimed he watched the inauguration ceremony with "pride and contentment".
"I wish I could attend but I couldn't because I am in hospital for some health problems that doctors are attending to. I missed the meetings because I was away, learning some few hard lesson," Chombo said.
In the letter, punctuated with grovelling phrases, Chombo, a key G40 member, said the coup was a welcome development for the party and government on the backdrop purges which took place "in the last six weeks".
And as has become characteristic of Zanu PF officials, Chombo, instead of retiring, used the letter to solicit for a government post even pledging his "full support and loyalty in equal measure" to his service under Mugabe.
"May God give you strength and guidance as you lead us into the future. I am available to serve you in any capacity that you deem fit," he said.
Self-exiled former Higher education minister and apparent G40 spokesperson Jonathan Moyo scorned Chombo's the letter saying it was "as improbable as it is sad".