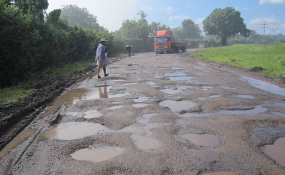 Photo: The Herald
Home Affairs minister Obert Mpofu has vowed to look into ZRP roadblocks and other issues affecting vendors, police and mishika-shika promising to stop clashes that have led to several deaths and injuries.
Chief among the problems raised are roadblocks and complaints from junior officers who are calling for the Police Commissioner Augustine Chihuri to be fired.
During the swearing in ceremony of President Mnangagwa at the National Sports Stadium 10 days ago, thousands of Zimbabweans from all walks of life booed Chihuri accusing him of corruption and making life difficult for those vending in the streets.
Mpofu, acknowledging problems in the police force, tried to exonerate himself from the issues reminding journalists that he had been in office for just a few weeks and needed time to deal with the concerns raised by both citizens and junior police officers.
"I am happy to be chosen back in the cabinet. President Mnangagwa appreciates my capacity to lead as a minister.
"Although I have received many complaints from my junior officers, whatever happened in the Home Affairs ministry previously and particularly the police force, I was not there but, I wish to emphasize that I will work very hard to achieve our goals as a ministry and solve whatever problems are being experienced in the force.
On the issue of clashes between vendors and law enforcement agents, Mpofu said; "We need to work extra hard to have a new Zimbabwe. Let me say that police is not there to harass or intimidate people. They are there to protect the public. I am going to address those issues involving vendors, road blocks, and mishika-shika very soon. We need transparency on the ground," said Mpofu.