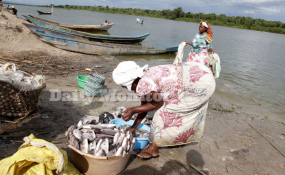 Photo: Daily Monitor
By Joseph Omollo
Busia — A group of 250 former sex workers in Busia District have found solace in fish business after years of peddling their bodies for survival.
Ms Sarah Wesonga, the team leader, says the new venture, where they are given fish on credit to vend has changed their lives.
"We are happy because our lives have changed for better. We can ably fend for our families," Ms Wesonga says.
The 40-year-old confesses to have been engaged in commercial sex business for the last 10 years.
She says commercial sex business is addictive and abandoning it has proved hard to those minting money from it. "I tried to convince them it's possible to live a meaningful life by doing other small odd jobs without engaging in prostitution," she says.
Prostitution is illegal but it is being practised in various parts of the country more so blossoming day and night at border points.
Ms Kevina Naigaga, 35, another group member, says is now assured of daily decent income.
She says the new business venture has helped her do away the painful experience of sleeping with multiple men to earn a living.
"I currently earn more than Shs20,000 per day which is enough to sustain my family," she says.
Ms Janet Naiga says they have been rescued from poverty.
The group is being supported by Geossy Company Limited, a private company which deals in cage fish farming.
The Company distributes fish to them on credit and they pay back after selling. However, Ms Naiga says the company should increase the fish supply in order to create employment opportunities for more women.
"Many of our colleagues who had refused to quit prostitution, have started joining us and more will join very soon," she says, adding that this is an initiative government should adopt to support women.
Mr Georwel Emanu, the company director, says they came up with the initiative after realising that a big number of girls were dropping out of school to get quick money in prostitution.
"We wanted to come up with something that could engage unemployed women including girls who are out of school because prostitution was the readily available job opportunity in this area," he says.
Mr Emanu says the beneficiaries have now become financially stable to meet their family needs and pay school fees for their children. " Our objective was for them to earn a decent living and be able to fend for themselves, We are glad it's happening," he says.
Mr Emanu says the company plans to increase the number of cages from the current 50 to 100 before the year ends, and in the near future increase the cages to a million in order to guarantee constant fish supply to the women group.
Each cage is stocked with 10,000 fish which takes six months to mature.
He, however, appealed to government to refocus development initiative to target women in slum areas, saying they are often times neglected.
"Government must target these vulnerable groups in order to address challenges of prostitution, domestic violence and bring to an end all sorts of their dubious activities," he says.
Mr Amos Seguya, an elder in the area, says the idea has helped streets to get rid of prostitutes.
"We applaud such development ideas because they help to make this world a better place for all of us. The government should come in and support it," he says.
The Busia municipality mayor, Mr Hassan Bwire, says they appeal to other non-governmental organisations to join hands and launch programmes that empower women in the area.