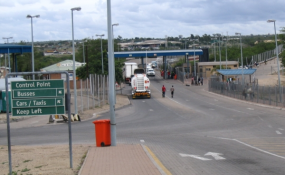 Photo: Faizel Slamang/GroundUp
By Taurai Mangudhla
The Parliamentary Portfolio Committee on Transport and Infrastructure Development has launched a probe into delays by Austrian firm, Geiger International, to start work on the Harare - Beitbridge Highway dualisation project, six months after a ground-breaking ceremony was held.
Committee chairman Mr Dexter Nduna, yesterday said they have demanded to be furnished with agreements between the contractor and Government, as part of a fact finding mission ahead of recommendations that are expected to guide the implementation of the key infrastructure project.
"We have also requested that they bring in the agreement that they went into with the Government of Zimbabwe and the Ministry of Transport (and Infrastructure Development) in particular on the day that they appear," Mr Nduna told journalists after Geiger snubbed an invitation to give oral evidence on the progress of the project yesterday.
He said Geiger officials had indicated to Parliament, through unofficial means, that their country representative was in Hong Kong and therefore had failed to attend the portfolio committee.
The committee has rescheduled the session to December 11. Mr Nduna said if Geiger fails to attend the session, it will be charged with contempt of Parliament. He said his committee is currently not aware of the details of the agreements entered into between the contractor and Government.
"We need the agreement so that we unpack it. In the same vein, I have asked the Ministry of Transport to give us the agreement with Group Five because we believe in the Plumtree-Harare-Mutare highway is embedded a clause that speaks to and about the equipment that was used on the highway project.
"It is the belief of the committee that something has gone dangerously wrong; the train has gone off the railway as it relates to the distribution and onward transmission of the equipment that was used. We have asked that agreement comes to Parliament so that we can now bring in Group Five so that they answer," said Mr Nduna.
The probe by Parliament comes as work on the Beitbridge dualisation project has stalled despite initial plans to have commenced construction in April 2016.
Dates were shifted to October 2017 but nothing is yet to materialise. As reported earlier by our sister publication, Business Weekly, the project was yet to take off amid claims Government had not given tax concessions to the company through a Statutory Instrument.
However, the Ministry of Finance said all was in order as the deal had been granted national project status, giving it free duty on capital equipment and special taxes on expatriate labour.