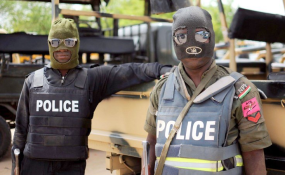 Photo: Premium Times
By Joshua Odeyemi
The Inspector General of Police, IGP Ibrahim Idris has ordered an immediate re-organisation of the Special Anti-Robbery Squad (SARS) following public outcry over conducts of the operatives.
The Force Public Relations Officer (PRO) Jimoh Moshood disclosed this in a statement in Abuja yesterday.
He said, "The IGP has directed the immediate re-organization of the Special Anti-Robbery Squad (SARS) nationwide and instant investigation into all the allegations, complaints and infractions leveled against the personnel of the Special Anti Robbery Squad across the country by the IGP X-Squad of the Force."
Moshood said, in the new arrangement, a Commissioner of Police is now the overall head of the Federal Anti-Robbery Squad nationwide under the Department of Operations, Force Headquarters Abuja.
"The Police Zonal Commands, State Commands and Divisions will continue to operate anti-crime units/sections, crime prevention and control squads and teams imperative to prevent and detect crimes and criminalities in their Area of Responsibilities, and other crack squads necessary to sustain law and order and protection of life and properties in their Area of responsibilities (AOR).
"Federal Anti-Robbery Squad (FSARS) will now exist and operate in the State and Zonal Commands under the Commissioner of Police (F-SARS) at the Force Headquarters.
"A Federal SARS Commander of a Rank of Chief Superintendent of Police (CSP) and not below Superintendent of Police (SP) will be in charge of FSARS in State and Zonal Commands across the Country.
"All Commissioners of Police have been directed by the Inspector General of Police to comply with this directive with immediate effect and warn their personnel not to pose as SARS operatives. The IGP X-Squad has been mandated to go round the Commands and Police Formations nationwide to ensure strict compliance and apprehend any erring police officer."
He also said a new training program to be organized by the Force in collaboration with some Civil Society Organizations (CSOs), Local and International NGOs, and other Human Rights Organizations on core Police Duties, Observant of Human Rights and Handling, Care and Custody of Suspects have been directed by the IGP for all Federal SARS personnel nationwide with immediate effect.
The Police spokesman urged aggrieved members of the public, who have complaints of violation of their rights by any SARS personnel anywhere in the country to report to the Force for investigation and further actions.
It would be recalled that the hashtag #EndSARS has been trending since Sunday as Nigerians call for the scrapping of the unit following allegations of illegal activities including extra-judicial killings.