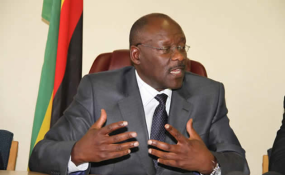 Photo: The Herald
Health and Childcare minister David Parirenyatwa says his ministry is in need of at least $1.1 billion annually for it to be brought back to life after years of drug and human resource shortages as well as other clinical basics such as gloves which are not available at most institutions.
Speaking to journalists after cabinet swearing in ceremony on Monday, Parirenyatwa revealed that the health sector could only recover if resources were made available and pinned his hopes on the upcoming Thursday's Budget which will be announced by Finance Minister Patrick Chinamasa.
"Health sector can only improve if resources are made available. All these problems that you see today are a result of resource scarcity, but if we get resources our hospitals will become manageable. Ambulance fleet needs to improve as well. That way we get more of our specialists on the ground and we can get to control malaria in the country.
"All the worrying health issues will be looked at, particularly retaining our staff in the ministry. The health ministry requires at least $1.1 billion per annum to bring all things back to normal. The international community is looking forward to see Zimbabwe excelling. We need appropriate equipment in all health sectors," said Parirenyatwa.
Currently, government hospitals are running without a budget as the annual budget allocation for 2016 has been exhausted according to health officials. Long queues are the order of the day as most doctors and nurses have left for greener pastures elsewhere in the region or abroad.
The health sector has been getting assistance from the United Nations agencies such as United Nations International Emergency Fund (UNICEF) and the United Nations Development Programme (UNDP) and other International Donor agencies that have intervened to try and alleviate the problems.