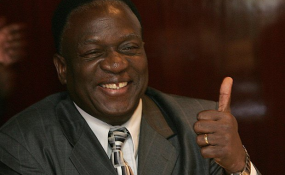 Photo: The Herald
The Zimbabwe Human Rights Commission (ZHRC) has urged President Emmerson Mnangagwa's government to take steps aimed at addressing the 1980s Gukurahundi atrocities which were ignored by the previous government.
In a statement on Monday, ZHRC also urged the new administration to halt fresh land invasions by suspected Zanu PF supporters as well as allow prisoners and Zimbabweans based abroad to vote in next year's elections.
"... The Zimbabwe human rights commission encourages the new government to address the issue of the Gukurahundi disturbances that took place in Matebeleland region and parts of Midlands province in the early 1980s," ZHRC said of a catastrophe in which an estimated 20,000 civilians died in the hands of the army in Matebeleland and Midlands provinces.
In his inauguration speech over a week ago, Mnangagwa, whose name features prominently among those who perpetrated the massacres, pledged national peace and prosperity.
He was, however, silent on any plans to compensate victims of the country's past atrocities.
It was almost taboo to publicly discuss Gukurahundi under Mugabe's now defunct government.
But ZHRC urged Mnangagwa to confront the issue and help diffuse tensions that have continued due to government's failure to address the emotive issue.
"Addressing this issue of national concern will help in ensuring closure on the part of the affected families, whilst at the same time ensuring that Zimbabweans are able to move forward together in the spirit of forgiveness and oneness," said the top rights body.
ZHRC also praised government for its recent move to allow those who externalised foreign currency to repatriate the loot on a no questions asked basis or face dire consequences thereafter.
The rights authority also Mnangagwa's pledges to compensate the more than 5,000 former white land owners who lost land under the country's violent land reform process but urged a stop in fresh land grabs.
"In the same vein," said the authority, "ZHRC encourages the President and the new government to consider ending the eviction of the few remaining white farmers in recognition of their citizenship status and to ensure that they are treated like any other Zimbabwean in the allocation of land."
ZHRC called on government to ensure Zimbabwean economic exiles who have helped prop up the country's economy through remittances are afforded franchise during next year's elections.