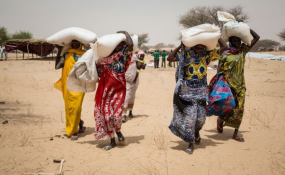 Photo: Marco Frattini/WFP
analysis
"A lot of people," says General Sir Nick Carter, Chief of the British Army, "look at Africa through their own eyes. But to be effective, they need to give Africa what it requires." By OLUSEGUN OBASANJO, GREG MILLS and DICKIE DAVIS.
The problem with foreign military assistance to Africa is not principally in the volume, or even the enthusiasm of the donors to provide more; it's to do with managing a series of tensions inherent in the relationship between provider and recipient. While partnership is a common theme in every discussion about foreign assistance, the reality is that its effectiveness often trips up over a difference between the short-term interests of the provider and the longer-term developmental needs of the recipient. In addition, military assistance does not always meet the local internal security needs around policing, nor does it routinely provide the type of strategic support required to build institutions and human capacity.
There is, however, plenty of current activity across the continent.
Currently Britain has military training and assistance teams permanently located in Nigeria and Kenya; its South African based team closes this week. This year marks the tenth anniversary of US African Command. AFRICOM's continental focus is on...