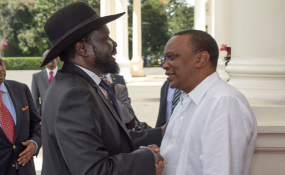 Photo: Capital FM
By Fred Mukinda.
Four Kenyans jailed for life in South Sudan for allegedly defrauding the Juba government are expected back home on Wednesday.
Mr Anthony Mwadime, Mr Ravi Ramesh, Mr Boniface Muriuki and Mr Anthony Keya were sentenced to life imprisonment for fraud and money laundering in June last year.
Kenya's Foreign Affairs Principal Secretary Monica Juma is in South Sudan to receive them.
The EastAfrican on Tuesday established that they were freed following talks between Presidents Uhuru Kenyatta and Salva Kiir.
The four Kenyans were in a group -- including 12 South Sudan nationals-- who were cumulatively jailed for 67 years for fraudulently acquiring $14 million belonging to the office of President Kiir.
At the time they were sentenced, Kenya and South Sudan did not have a prisoner exchange or extradition agreement.
The families of the four had appealed to the Nairobi government and the United Nations Human Rights Council to intervene.
They complained the four were not given a fair hearing in Juba.
They further argued the sentences were harsh and that they were victims of business wars between rivals, one of whom was their employer, for lucrative government tenders.
Among the South Sudanese serving time is businessman John Agou, who was a senior security officer in President Kiir's office and his wife Anyeth Chat Bol.
The two were founders of a firm Click Technologies, which supplied electronics to the Juba government, and employed the four Kenyans.
Mr Agou, the court found, conspired with his employees to swindle the Office of the President and other ministries, by receiving payments for phantom deliveries.