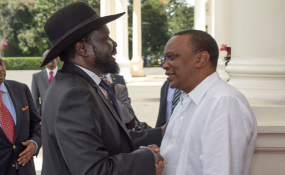 Photo: Capital FM
By Olive Burrows
Nairobi — Four Kenyans who have been imprisoned in South Sudan since 2015 will return home on Wednesday.
South Sudan authorities have agreed to release them after President Uhuru Kenyatta's intervened, negotiating their release with his counterpart Salva Kiir.
Their families have long lobbied the Ministry of Foreign Affairs to step in and secure their release following their arrest on suspicion of conspiring to steal Sh1.5 billion from the presidency.
The families first accused security forces of detaining what were initially five without trial, and when they were later found guilty by the courts, the Ministry of Foreign Affairs lodged an appeal on the grounds that they were not accorded a fair trial.
The five are Boniface Muriuki, Anthony Mwadimu, Anthony Keya and Ravi Ramesh.
It is understood the fifth Kenyan Peter Muriuki was released earlier.
Foreign Affairs Cabinet Secretary Amina Mohamed for instance took issue with the failure by the neighbouring country to grant them acceptable access to legal counsel.
The families defended the men against the accusation that they were involved in a cross-border money scam saying they were simply selling phones and computers for the South Sudanese government official said to have been the mastermind.
They contended that were there was no evidence linking their loved ones to the reported attempt to withdraw $15 million from South Sudan's central bank by forging the presidential seal.
Before news of their release broke, the Ministry of Foreign Affairs denied that Principal Secretary Monica Juma had travelled to Juba for that purpose.